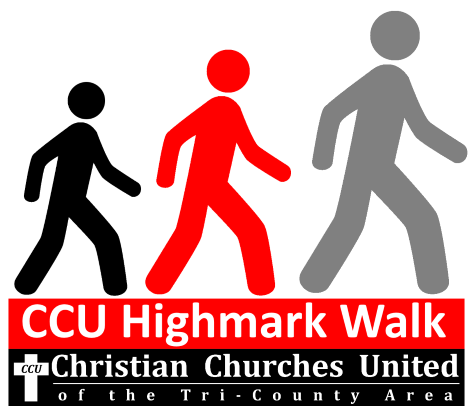 Mission Statement
Christian Churches United (CCU) is a collaboration of churches and other partners united in love and service to those facing homelessness, poverty and incarceration. As a leading provider of emergency aid and long-term solutions in the capital region, CCU brings together churches, concerned individuals, businesses, public and private funders, and partner agencies to support individuals and families in crisis, and assist them toward greater stability and self-sufficiency.
About Christian Churches United of the Tri-County Area
About Christian Churches United of the Tri-County Area
Walk alongside men and women facing homelessness through the 2020 CCU Highmark Walk! This year the walk benefits three housing programs run by CCU:
Susquehanna Harbor Safe Haven (SHSH): A residential facility offering long-term housing within a supportive community for up 25 formerly homeless men in Dauphin County. The program is designed to help men who are chronically homeless--those living on the street for a year or more--and who are also dealing with mental illness to get off the street. Once in a safe, stable environment, they work on goals related to income, employment, life skills, physical and mental health, and in many cases, addiction recovery.
Winter Overnight Safe Haven (WOSH): For many years, churches in downtown Harrisburg opened their doors as an overnight sleeping space to persons living on the street. As part of the building and program design of SHSH, a community room was included for the WOSH: where men can sleep in a warm, dry space each winter. From December 1 through March 31, men are accepted on a walk-in first come first serve basis each evening. The program is mostly staffed by volunteers from area churches and civic groups with support from SHSH staff.
Winter Overnight Shelter for Women and Non-Binary Persons (WOSWN): In the fall of 2019, CCU learned the only walk-in overnight shelter for women in Harrisburg would not be open for the 2019-2020 winter season. With support and encouragement from the community, CCU opened the new WOSWN program on the first day of winter 2019, with space graciously provided by Grace United Methodist Church downtown across from the capitol building. This shelter also provides space for individuals whose gender identity doesn't conform to guidelines of other area shelters.
Thank you for your support of the 2020 CCU Highmark Walk. Together we can provide life-saving places to be off the street on the coldest winter nights for people with no other options in our community.
Contact Information
Steve Schwartz
Phone: (717) 230-9550
sschwartz@ccuhbg.org
Donate:
Support/Donate to a Participant or Team:
Register:
Top Donors
Steve and Elizabeth Schwartz