Myasthenia Gravis Association of Western PA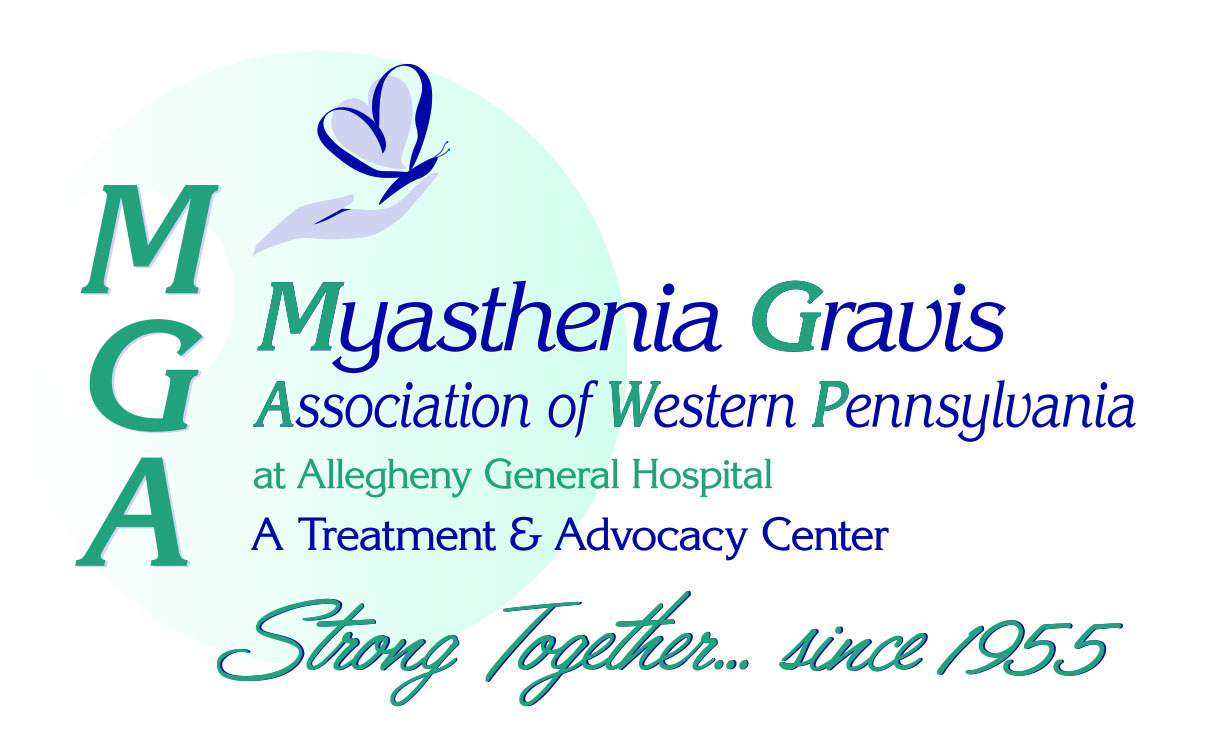 Mission Statement
The mission of the Myasthenia Gravis Association of Western PA is to address the medical, social and emotional needs of all persons affected by Myasthenia Gravis and to disseminate educational information to persons with Myasthenia Gravis, their families, the medical community and the general public.
About Myasthenia Gravis Association of Western PA
ABOUT MG
MG is a chronic neuromuscular disease causing serious weakness of the voluntary muscles.
It strikes persons of any age or race, but most often occurs in women under age 40 and men over 50.
MG can make seeing, walking, smiling or even breathing, very difficult.
MG has no known cause or cure, but there is hope through continued research and treatment.
It is often called the snowflake disease, as it manifests so differently in each person.
It is extremely difficult to diagnose correctly.
It is relatively rare, occurring in on average 30 per 100,000 persons, and it usually strikes suddenly.
ABOUT MGA of WPA
MGA of WPA is one of the oldest and largest organizations of its kind in the US.
MGA serves people from 26 counties in PA, parts of New York, Ohio, West Virginia, and Maryland, plus we respond to calls and emails from all over the US. Our website gets more than 3,000 hits per month.
MGA is a proud service partner of the Allegheny Health Network, and located on the Allegheny General Hospital (AGH) campus.
MGA offers a monthly support group at AGH, at Heritage Valley in Beaver, and a virtual one on Facebook.
We provide expert diagnosis, treatment, care coordination, and advocacy to patients and their families.
We provide education and information to the medical community and the general public.
We serve more than 500 patients and their families annually.
MGA is committed to keeping our support services free of charge and our operations cost-effective and sustainable.
Last year, MGA served a total of 505 patients and MGA staff provided 11,137 units of service in education, advocacy and outreach.
Myasthenia Gravis is hard to say, hard to spell, and hard to deal with, but MGA is here to help.
Contact Information
Maree Gallagher Phone: 412-566-1545 mgallagher@mgawpa.org
Donate:
Support/Donate to a Participant or Team:
Top Donors
Rose Peluso/AmGen Foundation
Judy & Lou Schrecker
Anonymous
Erica (Dale) C. Jones
Mrs. Jill Hart Carr