EUMA (Erie United Methodist Alliance)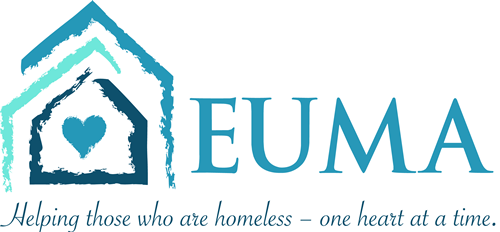 Mission Statement
Rooted in God's love and care, EUMA provides life-changing opportunities for those who live at the margins of homelessness to become vital members of our communities.
About EUMA (Erie United Methodist Alliance)
"Through EUMA, you provide those in our community who are homeless and impacted by poverty with emergency, transitional and overflow shelter services, permanent supportive housing options, medical outreach care, and assistance with clothing and necessities.
Today, we serve more than 2,000 adults and children each year through the following programs:
The Refuge emergency shelter for homeless families with children providing safe shelter, basic necessities and faithful support;
Liberty House Erie County's only transitional housing program specifically for homeless Veteran men;
Rapid Re-Housing helping those in a housing crisis quickly find a home and providing supportive services to help keep them there;
Healthcare for the Homeless Partnerships medical outreach program reaching homeless individuals where they are; including on the streets, drop-in centers, shelters and soup kitchens;
Our Neighbors' Place Overflow Shelter - Supporting Erie churches who are providing overnight shelter and services to those living on the streets during the winter months;
Permanent Housing helping to provide low-income permanent housing options to formerly homeless families;
Rainbow Connection Thrift Store Voucher Assistance providing clothing and necessities free of charge to those in need.
Thank you for helping to end homelessness in Northwestern PA
Contact Information
Kate Hiles Phone: 814-456-8073 khiles@euma-erie.org
Donate:
Support/Donate to a Participant or Team:
Register:
Top Donors
Mandy Barney
Mr. Christopher Alan Paul
Connie B. Hoeke
Erik Hoeke
Test