Chasing Rainbows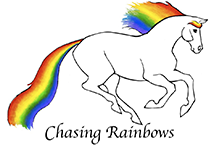 Mission Statement
To strengthen individuals with special needs, their families, and our communities by providing equine-assisted activities.
About Chasing Rainbows
We have been providing therapeutic horsemanship programs to the Harrisburg area since 2011. Our programs include therapeutic riding, Special Olympics Equestrian training, family lessons, and integrated summer camps. We serve individuals age 4 - 60+ with diagnoses including cerebral palsy, autism spectrum disorder, developmental delay, and others. We serve more than 100 individuals annually. All funds raised through the Highmark Walk for a Healthy Community will go directly to pay for the care of our therapy horses. Because we keep our lesson fees as affordable as possible for our participants, program income alone is not sufficient to cover our horses' care. Donations will help pay for feed, hay, bedding, veterinary, and farrier expenses for our program horses.
Contact Information
Andrea Gibson Phone: 7174330768 andrea@chasingrainbow.org
Donate:
Support/Donate to a Participant or Team:
Top Donors
Rider-THON Match Gift
Guardian Knights Motorcycle Club
Lower Allen VFW Post 7530
Serena Oldhouser
Clifford D. Bryner American Legion Post 751