Arsenal Family & Children's Center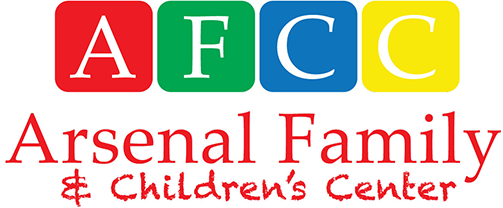 Mission Statement
The mission of Arsenal Family & Children's Center is to promote and be an advocate for the healthy development of young children.
About Arsenal Family & Children's Center
Since 1953, Arsenal Family & Children's Center has been promoting and advocating for the healthy development of young children while supporting their parents in building a nurturing relationship with each child. Arsenal Family & Children's Center's (Arsenal) philosophy is built on more than 60 years of observation, careful study, and work with young children. During this time we have determined two critical factors that are essential to the healthy development of children and are integral in all of our programs:
Opportunities for active learning through play and
Passionate involvement of an adult in their lives.
Founded in 1953 by renowned pediatrician Dr. Benjamin Spock, Arsenal Family & Children's Center has a longstanding history and proven success in programs and services designed to promote healthy child development and support parents in building positive relationships with their children. Through a range of programs and partnerships with other community agencies, Arsenal strives to reach all children to facilitate a positive start in life.
In addition to serving as a training site for area universities, Arsenal is a resource for the Allegheny County Children, Youth, and Family Services and the Family Division of the Court of Common Pleas of Allegheny County. Arsenal offers a range of programs and services for over 650 young children and their families, the majority high-risk and economically disadvantaged:
The Developmental Preschool (serving children 3 to 5 years old) is built around a play-as-learning curriculum that focuses on the child as an active participant in the learning process.

The NAEYC-accredited preschool and Keystone Star 4 Facility, focuses on teaching the children decision making skills, understanding the consequences of their decisions, self-confidence, and getting along with one another.

The Toddler Class (serving children 18 months to 3 years old) is based on the same principles as the Developmental Preschool where children learn through play experiences in a nurturing and developmentally appropriate environment.
The Supervised Parenting and Play Program (serving children Birth to 10 years old) offers supervised visitation and structured parent training to non-custodial parents and their children in a small group setting. Through this program, parents gain an understanding of their child's development, learn effective parenting techniques and build a trusting relationship with their child. The program provides a safe environment for the parent-child relationship to grow to a secure and meaningful relationship.
The Parent/Child Mentoring Program (serving children Birth to 10 years old) offers professionally guided, one-on-one parent education sessions facilitating the formation of a strong parent-child relationship focusing on communication, respect, and building a healthy parent-child relationship. ACT Raising Safe Kids Parenting Program (serving parents and caregivers of children birth 8 years old) is designed to promote positive parenting and prevent child maltreatment by fostering knowledge and skills that change or improve parenting practices. The program is delivered in 8 two hour sessions by certified trained professionals to groups of up to 10 parents.
Contact Information
Melissa Hankin Phone: 412-345-0008 melissa.hankin@arsenalfamily.org
Donate:
Support/Donate to a Participant or Team:
Top Donors
diane crossett
Grandma & Grandpa Chopko
Ms. Sara Parisi
Dmitri D. Shiry
Lisa Jepsen-Lozano