Acquired Brain Injury Network of Pennsylvania (ABIN-PA)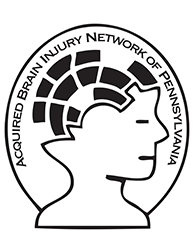 Mission Statement
ABIN-PA is a nonprofit 501(c)(3) organization of brain injury survivors and family members dedicated to increasing public awareness about acquired brain injury and to providing support, education, information, advocacy and other services for individuals with acquired brain injury and their families.
About Acquired Brain Injury Network of Pennsylvania (ABIN-PA)
Unfortunately, brain injury has no home base in government services. Services are spread throughout the local, state and federal system and there is no road map. As a result, ABIN-PA was founded in June 2007 by survivors and family members to help others find answers.
To carry out our mission, ABIN-PA maintains an InfoLine which handled 350 calls in 2015 that connected people to information about brain injury, funding, providers, support groups, state programs, school benefits, rehabilitation services, special needs trusts, plus juvenile and criminal justice. ABIN-PA also has a free monthly newsletter that reaches 1,325 people with articles on government affairs, brain injury, research, and ABIN-PA activities. ABIN-PA provides advocacy for individual and public issues. Current public issues include the revisions planned for HealthChoices, the diversion of waiver services to managed care organizations, disproportionate minority contact, children's access to brain injury rehabilitation, and special services for justice involved youth and adults with brain injury. Please help us continue to serve those who cannot help themselves
Contact Information
Joan Steinberg Phone: (484) 894-0942 abinsecretary@gmail.com
Donate:
Support/Donate to a Participant or Team:
Register:
Top Donors
Jean Hurd
bill Shaeffer
Anonymous
Main Line Rehab. Associates
aunt nancy