North Hills Community Outreach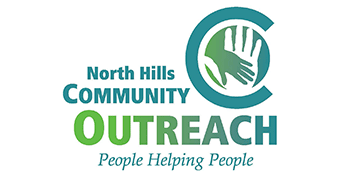 Mission Statement
We are an interfaith organization addressing the needs of people living in crisis, hardship and poverty.
About North Hills Community Outreach
North Hills Community Outreach is an organization of "People Helping People." Volunteers are the heart of NHCO and we serve all of northern Allegheny County. Last year 1,734 volunteers gave 39,470 hours, which is the equivalent of 19 full-time staff persons! We envision a sharing community where no one is cold, hungry or alone. Our services for struggling families and individuals include three food pantries, utility assistance, emergency financial help, housing assistance, education assistance and scholarships for nontraditional adults, WorkAble employment coaching, budget counseling and workshops, Community Auto car donation program, In Service of Seniors nonmedical volunteer caregiving for the elderly, Free Rides for Seniors shuttle, and much more. NHCO charges no fees for services with the exception of vehicle purchases through our Community Auto program.
We rely on the generosity and support of individuals, businesses, foundations, government entities, religious organizations, schools, and civic groups to help us carry out our mission of serving those in crisis, hardship and poverty. Thank YOU for supporting our mission and walking to help our neighbors in need!
Contact Information
Maria Christina Phone: 412-408-3830 ext. 3209 mschristina@nhco.org
Donate:
Support/Donate to a Participant or Team:
Register:
Top Donors
WesBanco McCandless
Jon & Joni Perry
Chris P Sotus
Ed McKenzie
Joe Cortese